About the Jewish Ghetto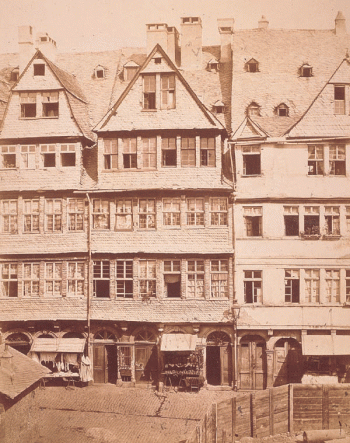 The Jewish ghetto in Frankfurt consisted of a single road - the Judengasse or 'Jews'
Lane' - in which the Jewish community had to live. They were confined to the ghetto
at night, on Sundays, and during Christian festivals. There were numerous other restrictions on their lives: for example, only twelve weddings a year were allowed in the community, and Jews could not enter parks or inns or touch the food on sale in markets.
The road was a quarter of a mile long, and no more than twelve feet wide. In 1458 the community numbered 110: by 1711 there were 3,024 people living there. Buildings were tall and narrow with every available space used; there was a lack of sanitation, light and fresh air.
Lionel's grandfather, Mayer Amschel Rothschild, developed a thriving banking business from dealing in coins and medals. The Green Shield house, to which he, his wife and their ten children moved in 1785 was a symbol of his success. This photograph was taken following demolition of the opposite side of the road, belying the narrow, dark street that the family would have known.