Disraeli Works Behind the Scenes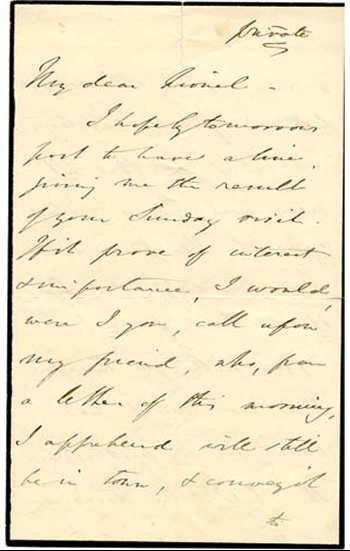 Letter from Benjamin Disraeli to Lionel de Rothschild. 26 December 1847. RAL 000/848.
Disraeli writes to Lionel describing some of his activities behind the scenes to try and raise support in the House of Lords for the Jewish Disabilities Bill.
Private
My dear Lionel,
I hope by tomorrow's post to have a line giving me the result of your Sunday visit. If it prove of interest and importance, I would, were I you, call upon my friend, who, from a letter of this morning, I apprehend will still be in town, & convey it to him, as it will animate him to fresh exertions.
I find that 18 men, now Peers, voted against the Jews in the Commons 1833, & only 11 in their favor! I agree with you, therefore, that we must be cautious in publishing the lists of the divisions, & rather give a précis of them, calling attention only to what is in your favor.
Writing to Lord John Manners today, I particularly mentioned the anxiety of the Court that the bill should pass, as this will be conveyed to the Duke of Rutland who is a great Courtier.
My friend thinks that a good petition from King's Lynn would nail Jocelyn's vote for the second reading [ ] to this [ ].
Ever yours faithfully
D
Bradenham
High Wycombe
Dec. 26 1847