The Old Testament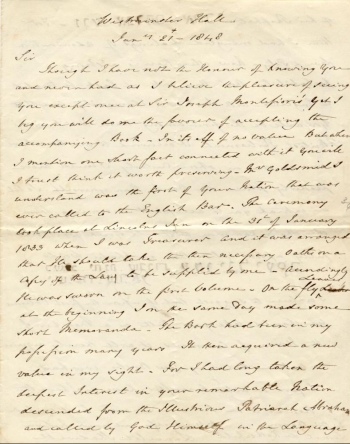 Letter from Lancelot Shadwell to Lionel de Rothschild, 21 January 1848. RAL 000/848
Shadwell, Vice-Chancellor of England from 1827, offers Lionel the Old Testament on which the first Jew to be admitted to the Bar swore his oath. Previously oaths had to be sworn on both books of the Bible, which excluded members of the Jewish faith. Moses Montefiore's diary describes Lionel taking his oath on the Old Testament in the House of Commons in July 1850: it is not known whether he used Shadwell's gift. Lionel omitted the words 'upon the true faith of a Christian' and was thus prevented from taking his seat.
Westminster Hall
Jany 21st - 1848
Though I have not the honour of knowing you and never had as I believe the pleasure of seeing you except once at Sir Joseph Montefiori's yet I beg you will do me the favour of accepting the accompanying Book. In itself of no value, but when I mention one short fact connected with it you will I trust think it worth preserving. Mr Goldsmid I understand was the first of your Nation that was ever called to the English Bar. The ceremony took place at Lincolns Inn on the 31st of January 1833 when I was Treasurer and it was arranged that he should take the then necessary Oaths on a copy of the Law to be supplied by me. Accordingly he was sworn on the first Volume. On the fly leaves at the beginning I on the same day made some short Memoranda. The Book had been in my possession many years. It then acquired a new value in my sight. For I had long taken the deepest Interest in your remarkable Nation descended from the Illustrious Patriarch Abraham and called by God Himself in the Language of his Prophet [ ] . For them I had mingled feelings of admiration, Love & Pity. Now when there is a strong probability that they will at last be treated in England with Justice & Humanity and that you will be the first among them to sit in a British Parliament it occurred to me that there was no one in whose custody I could more properly place the book than yourself. So let me entreat you to accept it as coming from one who in common with all your Brethren fully appreciates those emphatic Words [ ]. I venture to suggest that if upon the first Volume you should take your Oath as a Member of the House of Commons it will thereby acquire a value that very few Books ever had before or will hereafter have. I have the Honour to be Sir, a Sincere Wellwisher to yourself and your Nation.
To the Baron Lionel de Rothschild
Lancelot Shadwell