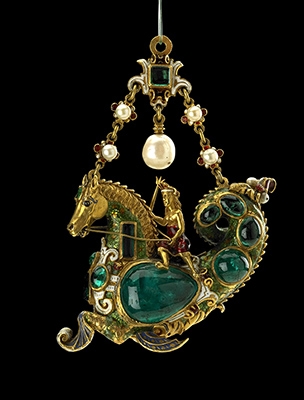 A Rothschild Renaissance: Treasures from the Waddesdon Bequest
British Museum Room 2a. Opens 11 June 2015. Admission Free
The Waddesdon Bequest, the superb collection of medieval and Renaissance treasures left to the British Museum in 1898 by Baron Ferdinand de Rothschild MP, will be redisplayed in a new gallery in the British Museum that opens on 11 June 2015.
The gallery is made possible through a generous donation from the Rothschild Foundation. The new display will contain some of the most impressive objects in the British Museum's European collection, and will give fascinating historical insight into shifts in taste, the growth of the art market, and the development of forgery in response to demand from collectors in the nineteenth century. In addition, the redisplay will involve the most ambitious digital treatment of a permanent gallery by the Museum.
As a demonstration of power and discernment, the collection tells the story of the rise of the Rothschilds as a new European aristocracy in the 19th century. Until Baron Ferdinand's death in 1898, it was displayed in a specially-created room, The New Smoking Room, at his country retreat, Waddesdon Manor in Buckinghamshire, a National Trust house managed by the Rothschild Foundation. With this new gallery, which reconnects the Waddesdon Bequest both with Waddesdon Manor and with the history of the British Museum, the collection can be fully understood for the first time in its proper intellectual and historical context.
Read more on The British Museum website here »
Posted on the 11th June 2015
Return to archive for 2015
Return to latest news