In 1977 the sale of a country house and its contents - Mentmore Towers in Buckinghamshire, England - divided the opinion of the nation.  The 7th Earl of Rosebery, faced with death duties, offered the former Rothschild house and its collection to the nation for £2 million; the offer was refused and the subsequent sale of the house and its collections became a cause célèbre in the heritage world.  One of the items was purchased for New Court, where it remains today, a tangible link to a vanished world. Find out more about this beautiful piece of furniture.
Posted on the 1st February 2020 | Read more…

The European Association for Banking History (EABH) is pleased to invite submissions for its next conference: Finance and Migration
Posted on the 21st January 2020 | Read more…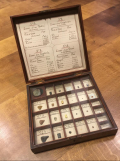 One of the items recently rediscovered in the collections is a small wooden box, about 25 cm square, containing samples of precious metals. Its origins are unclear, but it may date from the days of the London bank's early involvement with the mining and refining of Australian and Californian gold from the 1850s. Find out more about this intriguing artefact.
Posted on the 8th January 2020 | Read more…