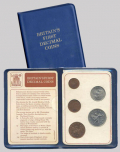 As a revolution hits our high streets with century-old names disappearing and fundamental changes in the way we purchase goods from jeans to washing machines, this month we look back to an almost forgotten but nonetheless momentous change in our shopping routines. Fifty years ago, the first few months of 1971 saw a transformation in our purses and wallets – the introduction of decimal currency, which had first been proposed in 1824.
Posted on the 1st March 2021 | Read more…

In recent weeks, as the global pandemic continues, the media has highlighted the shocking increasing issue of food poverty in the UK. This month we look back to how Lionel de Rothschild (1808-1879) took the lead in responding to another human crisis - the Irish Famine of 1847.
Posted on the 1st February 2021 | Read more…

Communication has always been a key factor in the successful nature of Rothschild businesses; even if business itself was interrupted communication would always find its way to New Court. With this in mind, this month we reflect on how a historical epidemic from nearly 200 years ago threatened to disrupt the then only form of communication; the letter.
Posted on the 1st January 2021 | Read more…